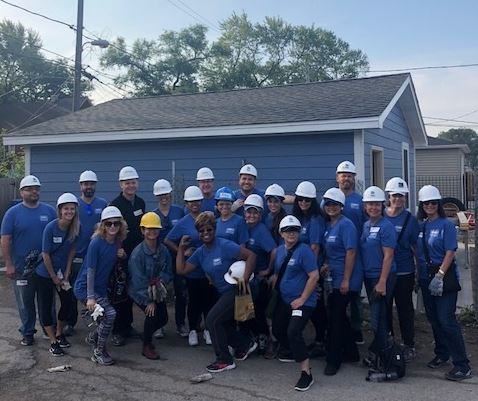 September 20, 2018: On September 20th, in partnership with Habitat for Humanity, twenty-one independent sales associates of the Coldwell Banker Residential Brokerage Halsted Office put on hardhats and helped build homes at two locations in the neighborhood of West Pullman in Chicago, Illinois. Whether nailing, cutting, hauling, or building, the group of real estate agents worked alongside the Habitat for Humanity team to get involved in making a different in their community, the city of Chicago.
To achieve their fundraising goal of $5,000, the office agents and staff came up with creative ways to collect donations, including a yacht outing in August, a post-fourth fireworks event in July, a shopping event at a local boutique in June, and a Cinco De Mayo themed fiesta in May. When the goal was achieved, the top twenty fundraisers were invited to participate in the highly anticipated Halsted Build Day.
For more information and photos of each individual event, see the News & Events tab of our GiveHousing.com website.