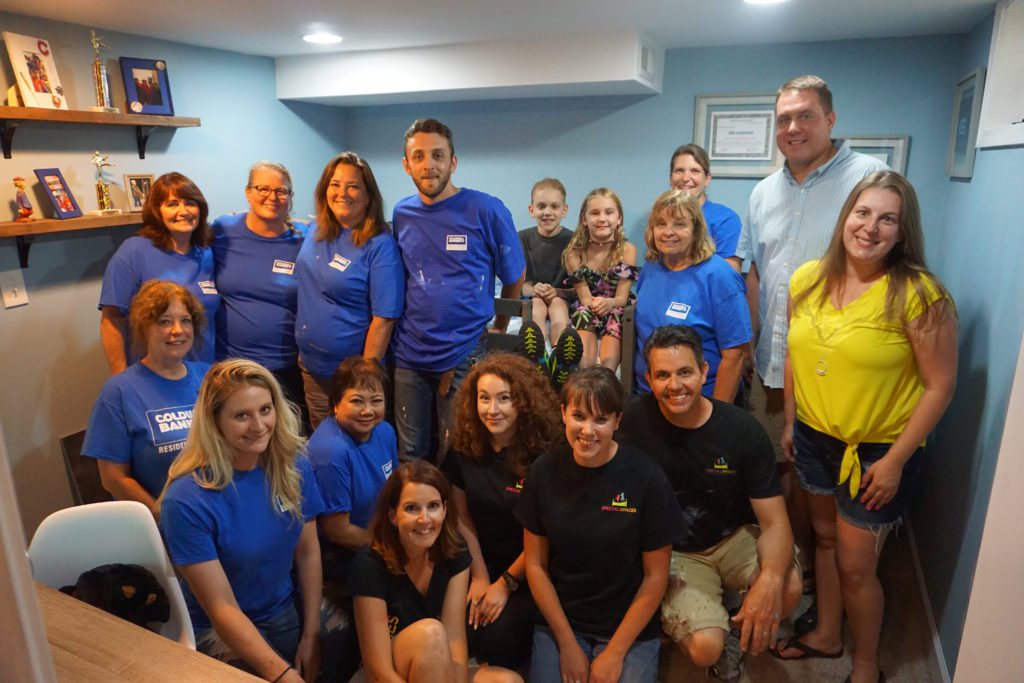 July 20, 2018: Des Plaines, IL. – The Coldwell Banker Charitable Foundation and Special Spaces Northern Illinois Chapter, a non-profit organization that creates dream bedrooms for children with life-threatening medical conditions, teamed up to complete a bedroom makeover for Billy, an 11-year-old Des Plaines resident.
On Friday, July 20, Billy came home to find a big surprise – a new dream bedroom! Billy is an extraordinary child who is living with cancer. Billy is a true definition of a fighter; he is currently undergoing treatment every two weeks throughout the summer. Though he has faced many hardships in his lifetime, he remains positive and enjoys spending time with family, playing video games and most importantly, cheering for his favorite team, the Chicago Cubs.
Before the bedroom makeover, Billy shared a room with his 8-year-old sister, Allison. He has now moved into his own room, a clean and modern "boy cave." Renovations included include new furniture, carpeting, a custom closet, and a space where Billy can relax, read, and play video games.
To help complete makeovers, Special Spaces depends on donations from individuals, local businesses, groups and even other foundations. All the funds for Billy's room were raised by Coldwell Banker Residential Brokerage's Libertyville, Northwest, Park Ridge and The Groves offices. "I am humbled by the amount of support we receive from our colleagues and friends in our efforts to create a dream bedroom for this amazing child," said Vicki MacKinnon, an agent affiliated with the company's Northwest office. "We're all very excited to be able to do this for Billy and his family."
Fran Broude, president and COO of Coldwell Banker Residential Brokerage, said, "I have been lucky enough to witness firsthand the impact that a room makeover has on a child who is battling an illness and we are beyond thrilled to give Billy a new functional room that's designed just for him."
Special Spaces' goal is to create dream bedrooms for children with life-threatening medical illnesses. The focus is answering one question:  Where does a child go when battling a serious illness to find peace and comfort?  Their bedroom. "A bedroom is often the only personal space a child has to represent his or her unique personality," explains Amy Eiduke, Director of the Northern Illinois Chapter for Special Spaces. "For a child with a critical illness, that room should be a very special space of comfort and refuge."
Billy's room marks the 15th bedroom makeover that is in partnership with Coldwell Banker's Chicagoland offices. To-date, Special Spaces Illinois has created over 100 bedroom makeovers for children in-need, since inception in 2013.
To learn more about the Coldwell Banker Charitable Foundation, visit www.GiveHousing.com. For more information about Special Spaces, visit www.specialspaceschicagoland.org .